Just show up. Make sure you have water and comfortable shoes with you, as this is a 2 hour tour.
Groups over 8 are not accepted on our tours, as we to make our tours enjoyable for everyone. If you are a large group please contact us.
ON THE TOUR:
Join us for this two hour tour to find out more about the story and history of Bratislava. If you do not know that local person to show you the cool places, this tour is for you. On the way we will show you the parts of Bratislava where the old meets the new, spots that are generally hidden from the sight of a passerby. The best way to describe this tour is a fun walk with a local where you see the most unique and nicest highlights of Bratislava.
We will visit the courtyard of the Old Town Hall, the Primates Palace, Blue Church talk about the Gates of Bratislava and much more. If the weather permits, we walk to the Old Bridge and have the most unique skyline view of Bratislava – UFO Bridge, Church Towers and Bratislava Castle all at once.
This tour serves our visitors as a follow-up on the City & Castle tour, where we discuss the basics about Bratislava and Slovakia. We will discuss the importance of Bratislava and the transformation from a medieval to a modern city. The entire tour is without stairs, it is stroller, children and also dog friendly.
We especially recommend this tour if you have already been to the castle and would like to have a calm stroll around town, perhaps taking a coffee and taking the nicest pictures, whilst learning about what makes our lovely city special.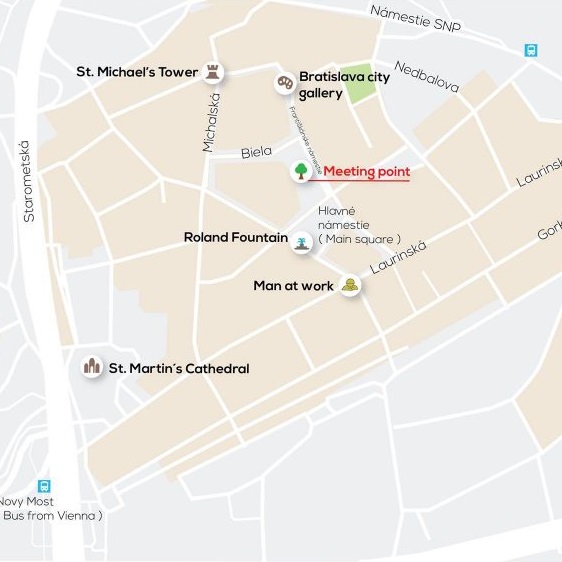 What to do after the Free tour?
FEW HOURS
Slavin – WW2 Memorial with a great view of West Bratislava, free of charge, 1 hour return trip from the meeting/ending point of the free walking tour (Free)
Nova Trznica – Communist market hall, with good local wine 1L-2€, and very traditional meals on the 1st floor. You should use public transport and could be a nice 1 hour round trip from the meeting/ending point of the free walking tour (Free).
Old Town Hall – A complex museum of the Old town and Bratislava with the old prison and tower view. It is just around the corner from the meeting/ending point of the free walking tour (5 €).
HALF DAY
Devin Castle – A beautiful castle at the edge of Slovakia, which is in the middle of a wine area known for Ribezlak, surrounded by Austria. Blown up by Napoleon in the 19th century and now a great place to relax! A round trip from the old-town would be around 3 hours (4 €).
Danubiana Modern Art Gallery – One of the most exclusive galleries in Central Europe at the edge of Slovakia, surrounded by Hungary. You need to use public transportation but is really worth it and will take you around 3 hours! Make sure you get a student ticket for the gallery, no card needed… (5 €)
Kamzik TV Tower – The tallest structure in Bratislava, it is even possible to see Vienna from it! A nice bar up on top with beer for 2€, also it gives you great hiking trails, if you are tired of Free Walking Tours. With public transportation could be a 3-4 hour round trip (Free).
FULL DAY
Devin + Bunkers – Devinska kobyla is an abandoned Soviet army base in the middle of a beautiful national park, not 100% legal but it is cool and you do not have to jump fences. + Devin Castle  together can take up to 6-8 hours.
3 countries 1 day – Rent a bike under the UFO for 10 € and cycle the Danube in three different countries, something super unusual and one of the great strengths of Bratislava, can take you up to 8 hours if you want.
Svaty Jur, Pezinok, Trnava, Nitra – These are smaller towns with & wine/food/history around Bratislava with little tourism and lot of fun, can take as much time as you want.